Steam Quality Test Kit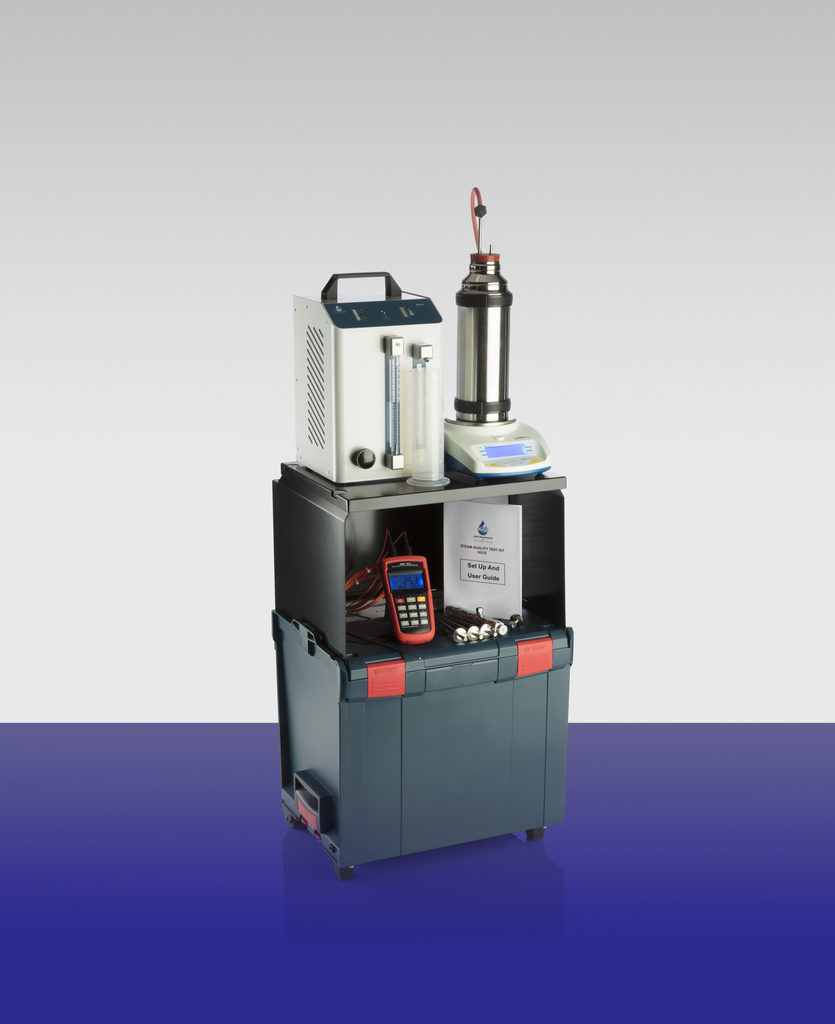 Two models available – SQ1E with electric fan cooled non-condensable gas test and SQ1 with water cooled condenser – available with 1/2″ tri-clamp, 1/4″ threaded and Fedegari sample connections
Using the SQ1E condenser video

a nnn
Steam quality testing solutions from the market leader
Download
(pdf 150 kb)
Steam quality test equipment to qualify plant/utility/clean/pure steam generators, steam distribution systems and steam supplies to autoclaves in accordance with cGMP (Orange Guide), HTM 01, HTM 2010, EN 285: 2015 + A1:2021, DIN 58950, ISO 14937:2000, AAMI ST79, ISPE Baseline Guide for Steam and Water, and PDA Technical Reports No. 1 & 48 – TR1 & TR48.
Benefits
Here are some of the many benefits you will receive:

100% money back guarantee – if you are not happy with your purchase in any way, we will refund your money
Easy for you to use with detailed instructions provided
Used by fellow validation professionals in leading pharma companies in over 50 countries. Please refer to our client and country listings.
Stylish, compact and light design
We provide you with a great level of pre and post sales support
Supplied with Certificate of Compliance with EN 285:2015 + A2:2021
Our Steam Quality Test Kits


We supply our steam quality test kit (SQ1) in four versions:

i. SQ1E
The latest evolution in portable steam quality testing. An air cooled non-condensable gas test condenser. A true "plug and play" device – connect the steam pipe, plug in the power, switch on and you're testing – no water or adjustments needed.
Will be supllied with either 1/2″ Tri-Clamp, 1/4″ BSP or Fedegari connectors
Fully EN 285 compliant
Zero water consumption
No validation or calibration required
Great time saver pre and post-test
Fully automatic temperature control with LED indication
Over temperature auto shut off
12 volt dc powered – mains PSU included
Burette and measuring cylinder backlighting
Precision push button burette water/gas level control
Portable – weighs only 16kg with carry handle
Fool proof – no "wrong way" to start or stop
Extensively field tested
Inspired and developed to meet the real life practical demands of extensive testing in multiple and difficult locations. Download brochure.
Ordering Reference: SQ1E Steam Quality Test Kit.
ii. SQ1 Pharma
Supplied with ½" tri-clamp (tri-clover) connections. Typically used for welded clean/pure steam pipework systems that have tri-clamp (tri-clover) connections.
Ordering Reference: SQ1P Steam Quality Test Kit.
iii. SQ1 Standard
Supplied with ¼" BSP (or NPT for US) threaded connections. Typically used for either plant steam systems or steam systems having threaded steam pipework and fittings.
Ordering Reference: SQ1T Steam Quality Test Kit
iv. SQ1F
with specially made nominal ½" sanitary flanges for Fedegari sterilizers.
Ordering Reference: SQ1F Steam Quality Test Kit
The Ordering Reference only should be used on orders and will appear on all of our documents such as invoices, delivery notes, commercial invoices etc. This ensures that the correct products are supplied, errors are minimised and goods pass speedily through the customs & clearance processes. This cannot be guaranteed if alternatives are used.
Our costs exclude VAT (which applies to the UK only) and the delivery cost. See Ordering Instructions below for other terms. Delivery: ex-stock.
Steam Quality test Kit Contents
non-condensable gas test condenser
submersible cooling water pump & pipes – to allow testing to be carried out at remote locations without a local cooling water supply
insulated steam connection pipe (not required with the SQ1E)
burette, tap & rubber filler (not required with the SQ1E)
250 ml measuring cylinder
three pitot tubes (0.4, 0.6 & 0.8 mm dia.)
superheat expansion tube with insulation
dryness test bung with stainless steel dip tubes
connection tube and clips
1 litre stainless steel vacuum flask
detailed instruction manual and procedures/calculations and report forms in Excel
robust carrying case
To achieve the best results in steam quality testing, you will need accessories.
Complete our enquiry form or call us now on +44 (0)1582 457775 for prices
KSA Enquiries